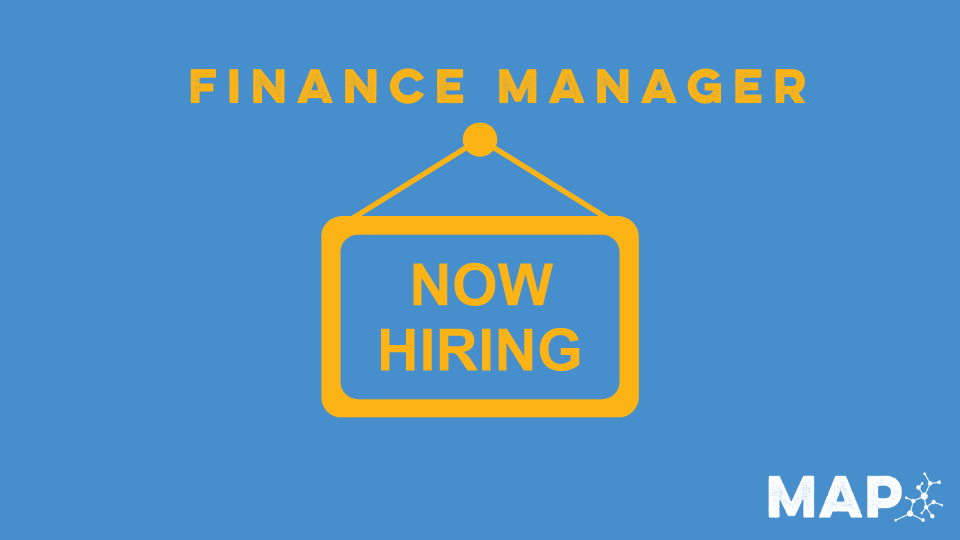 Finance Manager
REPORTS TO: Operations Director
FLSA STATUS: Exempt
SCHEDULE: Full-time, 35 hours/week
SUPERVISES: Finance Coordinator
LOCATION: Remote with possibility of in office work after the pandemic
START DATE: January, 2022
APPLICATIONS DUE: November 10th, 2021
Who We Are
Movement Alliance Project (formerly Media Mobilizing Project) is a vibrant community institution in Philadelphia. Movement Alliance Project (MAP) is a hub for supporting and developing strategies with poor and working people to win lasting power and a just society.
In recent years, we've expanded our support of local organizing initiatives through our sponsored projects program, which provides fiscal sponsorship and administrative support to over a dozen community based organizations. MAP also anchors the People's Headquarters – our shared office space housing grassroots organizations- that offers co-working, and meeting facilities.
From 2019 to 2020, our budget grew from $1.5 million to $6 million across MAP and all of our sponsored organizations. In response to this growth, we underwent a months-long strategic planning process in the first half of 2021. Now, we are building out a team that will take our plans into reality.
What We Do
We convene, facilitate, and coordinate groups that address injustices in Philadelphia and beyond. We provide fiscal sponsorship to a network of established and emerging organizations.
What We Believe
We believe that organizations need to work together intentionally and strategically to build a strong, social movement in Philadelphia. A movement that is capable of bringing about a transformed society in which every human being has enough, not just to survive, but to thrive.
We believe in a holistic approach to movement work. Organizations need skills, tools and systems to build powerful social movements that can respond to the moment. And organizations need time for study and reflection to develop clear analysis and good strategy, with a focus on the long haul.
Movement Alliance Project's Operations
MAP understands operations as a key part of our work. At MAP, finance, HR, IT & operations aren't afterthoughts; they're central components of our work. We strive to create administrative policies, practices and procedures that strengthen our fight for social justice.
Position Overview
The Finance Manager works with the Operations Director and Finance Coordinator to ensure the accuracy and timeliness of MAP's financial management systems, processes, policies and records. The Manager is a decision maker and works as a collaborative partner with MAP staff and staff in our fiscally sponsored organizations. The Manager performs a variety of bookkeeping and accounting duties to maintain the general ledgers for MAP and its sponsored organizations, while providing regular financial reporting and ensuring compliance.
To that end, the Manager must have strong interpersonal skills and the ability to motivate and influence people working together with a variety of priorities. The Manager should be comfortable with handling large amounts of data and be very familiar with QuickBooks Online. They will provide financial information for MAP's leadership and work to ensure that MAP's financial operations support its mission and strategic plan.
Essential Job Functions
Manage all day-to-day accounting processes and systems. Ensure that financial books are accurate and up to date;
Supervise the work of the Finance Coordinator who is responsible for the initial review of expenses, processing payments, managing invoices, distributing reports to sponsored organizations, managing debit cards and processing bank deposits;
Oversee the integrity of MAP's financial management systems including systems maintenance, updates and improvements;
Ensure that the financial systems and MAP policies and processes provide proper financial management support and assistance to our programmatic staff and fiscally sponsored projects;
Work with the Operations Director to ensure that ongoing financial training is provided and that all deadlines and requirements are met;
Oversee cash management practices including conducting reconciliations for all bank accounts, prepaid debit cards, PayPal, and other accounts. Handle internal bank transfers;
Process bi-weekly payroll and conduct payroll reconciliations and track monthly benefits costs;
Perform monthly close; Analyze financial statements, ensure accuracy, and make ongoing corrections as necessary;
Provide timely and accurate cash flow projections;
Responsible for accounts payable including booking commitments and expenses;
Responsible for accounts receivable including documenting contributions and grant revenues and billing projects for fiscal sponsorship fees and other cost allocations;
Coordinate and oversee 1099 preparation at year end;
Work with the Operations Director to present financial reports to the Board of Directors;
Prepare required financial reports for funders;
Coordinate with the Operations Director and external accountants to complete 990 and Fixed Asset schedule;
Manage the annual audit;
Handle complex funder and tax designations; manage lobbying limits and cost sharing with C4's and PACs;
Remain up to date on best practices and laws regarding nonprofit finances
Perform other administrative and financial responsibilities as may be required.
Requirements
4 or more years of relevant experience working with complex accounting or Bachelor's Degree or higher in Accounting and at least 3 years' relevant experience;
Strong knowledge and a proven record of success in managing financial and accounting practices and procedures; 
Extensive knowledge of QuickBooks Online and Excel; 
Must share a commitment to racial, economic and social justice; 
Must be able to thrive in a workplace that strives to be welcoming to diverse identities; 
Ability to communicate effectively with people who have varying degrees of financial management experience;
Prior experience in supervising staff;
Ability to work both independently and in a collaborative environment; 
Must be focused and well-organized; A problem solver;
Able to manage multiple priorities;
Experience with nonprofit accounting is preferred;
Knowledge of Certify or similar expense management software is a plus;
Knowledge of fiscal sponsorship and/or multi-entity structures is a plus;
Salary And Benefits
The Finance Manager salary is $70,000 – $75,000 per year based on experience.
Benefits include: health care (MAP pays 90%), 401K contribution, Flexible Spending Account, 25 vacation days, 8 holidays and December 24th-January 1st paid break. MAP's benefits also include sick, bereavement and parental leaves, and some scheduling flexibility.
How To Apply
Submit a resume and cover letter using this form. If you don't have a google account you must make one to access the form. No phone calls or emails, please.
MAP is an equal opportunity employer. We value a diverse workforce and an inclusive culture, because we believe that communities impacted by structural racism and capitalism are best positioned to make powerful interventions to transform our society. 
MAP encourages applications from all individuals who think they might be qualified without regard to race, color, religion, gender, sexual orientation, gender identity or expression, age, national origin, marital status, caretaking status of children or elders, citizenship, disability, veteran status and record of arrest or conviction.