For much of the past decade, Movement Alliance Project has held a blend of multiple organizational forms within the same organizational structure, leadership and staff team. One of the truths we had to face in MAPOut is how this hybrid organizational form was a double edge sword, providing capacities to engage in a range of organizing opportunities – able to jump in the fight with what was sometimes movement support, sometimes technical assistance, sometimes base building, and still other times coalitional work. It also left us strapped, with time, resources, and focus competing across projects, and the complementary nature of various programs not always apparent or at worst programs being at odds with one another. 
Since MAPOut we've worked to restructure our organization. We started by trying to make a clear articulation of several strategies that have driven our work. A clear organizational strategy consists of a single challenge to overcome and a theory of how to do it.  Now, each strategy core to MAP's history and impact has a new organizational structure for its needs, with a leadership and staff team focused on the goals of that project. No longer will each strategy have to share resources spread across several diverging initiatives. We've used the administrative infrastructure and capacities we've built for our sponsored projects program to house those projects as new organizations. 
We're hopeful that this shift will allow several key contributions we've made to the movement ecosystem to not only endure but thrive.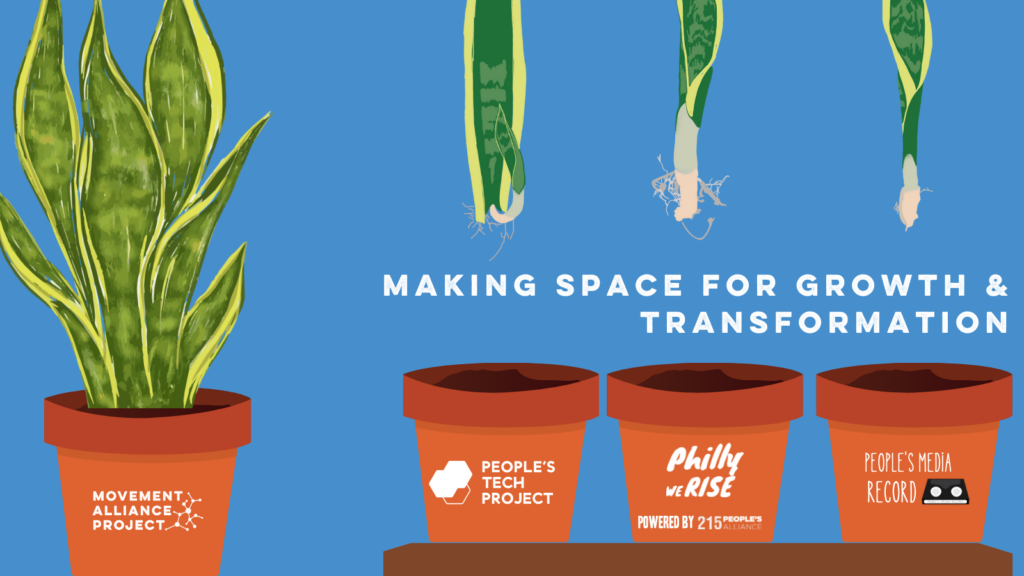 Here's a breakdown of what's shifting:
We're launching People's Tech Project!
People's Tech Project will help social movements develop a positive vision of how technology can contribute to the logic of a liberatory world, rather than serve as the linchpin of an economic system that puts profit over people and planet. 
Over the past decade, MAP won groundbreaking campaigns and learned crucial lessons about the rapidly increasing role technology plays in exacerbating conditions for our people over the past decade. People's Tech will support the technology justice movement to become grounded in the vision, needs, and battles fought by everyday people's organizations.  By doing so, we can ensure tech justice wins make our communities' larger fights more effective and more able to contend for power.  This project will be led by former MAP Policy Director Hannah Sassaman, as the new Executive Director of this project, along with a beautiful team; Devren Washington as Organizing Director, Jenessa Irvine as Managing Director, and Shari Bolar-Martray as Communications Coordinator.
Check out People's Tech Project's website to learn more.   
People's Media Record is becoming a Sponsored Project!
The People's Media Record is the archive and repository for thousands of hours of raw audiovisual material from our 15 years as Media Mobilizing Project.  Media in the collection documents the growing struggle for racial and economic justice in Philadelphia. Through assessment, training, and collaboration, People's Media Record works to support local community institutions facing the challenge of preserving audiovisual materials.  Led by former MAP Technology & Information Systems Manager, Helyx Chase Scearce Horwitz, now Interim Director of the People's Media Record, this project preserves the legacy of producing movement media that Media Mobilizing Project was founded on. Helyx began the Record in between managing countless other duties to support the technology needs of MAP, and now with the help of an expanded advisory team and Khalila Chaar-Pérez as Collections Assessment Associate, is able to dedicate attention to the Record as a resource for supporting media preservation needs for community institutions that go far beyond even MAP's reach.
Check out People's Media Record's new website to learn more. 
Philly We Rise is now Powered by 215 People's Alliance!
Philly We Rise is an email list, social media pages, and resource website MAP launched in January 2017 to connect the growing resistance against Trump administration policies with the long-standing social movements of our region. Through on-the-street documentation, amplifying take action opportunities, and telling the stories of organizers leading campaigns, Philly We Rise quickly reached a wide audience of new and older activists in our communities. Those early days of Philly We Rise were a collaboration with 215 People's Alliance, a multi-racial grassroots political project working to bring together Philadelphians to make change.  We're excited 215 People's Alliance will be taking up and continuing Philly We Rise, so regular updates like the Weekly Happening remain a resource for those looking to get involved.
Sign Up for Philly We Rise's Weekly Happening to stay updated! 
Movement Alliance Project has a singular focus on movement infrastructure
Movement Alliance Project will focus on supporting the growth of a healthy movement ecosystem where organizations succeed in making transformational social change. The contributions we believe we can make toward this healthy movement ecosystem are organizing to make sure our movements have the resources needed to thrive, collectivizing the structural capacities our organizations need through sharing the administrative capacity we have, and collaborating with movement leaders and organizations to meet common needs.  Collaboration and support has been at the heart of MAP since the first Media Mobilizing Project Community Board  in 2006, and our greatest successes – especially each of the ones continuing above – are because of our commitment to bring together leaders across differences to build the movement. The leadership team of Bryan Mercer as Executive Director, Jacob Winterstein as Director of Operations & Finance, and Clarise McCants as Interim Director of Movement Collaboration, alongside MAP's board of directors are working to build the foundation of this project. They are doing so with a dedicated initial staff team that includes Zoraida Ossa as Operations Manager, Melissa MacNair as Senior Finance Manager, and A'Brianna Morgan as Strategic Alliances Coordinator.